Four IRSC college tuition scholarships have been awarded by AAUW Vero Beach

each year since 1971
Supporting the education of women is part of the ongoing mission of AAUW. The Vero Beach Branch member contributions and fundraising events provide annual scholarships for women attending Indian River State College (IRSC) and local nursing students.
AAUW Vero Beach awards four $1200 Branch Scholarships and one Endowed $500 Scholarship annually. Indian River County female students currently attending IRSC who have attained an AA degree and plan to pursue a BA degree are eligible.
For more information about how to make contributions, please call Carla Calwell, Branch Director for Scholarships (772) 257-6469.

---
Another

GREAT Way to Contribute — AAUW VB FUNDRAISERS

Throughout the year, AAUW presents various fund raising events that support our scholarship program. Coming in 2020 are:

February 16th— A play, Across a Barrier of Fear: The Life of Eleanor Roosevelt, at the Vero Beach Theater Guild

March 19th — The second annual Senior Expo at the Inter-generational Recreational Center

April 17th — The third annual "Play the New Card" Mah Jong event at Bent Pine Golf Club

For more information: www.verobeach-fl.aauw.net
---
Scholarship Recipients
2019-2020 — The American Association of University Women (AAUW) honored its five 2019-2020 scholarship recipients at a luncheon meeting May 4th at Pointe West Country Club: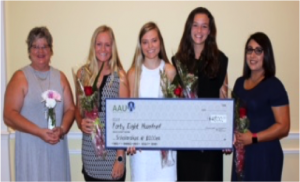 Judy Delapaz, Corinna Hennessey, Skylar Carstairs, and Kelsey Fischer were awarded AAUW's Branch Scholarship at $1200 each. Jacqueline Erney was awarded the Endowed Scholarship at $500.00.
AAUW awards these scholarships to women who have achieved academic excellence, are attending Indian River State College (IRSC) having completed an AA degree, and who will pursue a four-year degree in the fall.
In addition, Vero Beach AAUW has funded two endowments at the national level. The Lenore Feibel Fund has generated $90,000 for research. The Janette MacPhail/Harriet Strong National Endowment will provide $75,000 for graduate scholarships.
---
The AAUW Vero Beach Development Committee allocated $2000 for scholarships to the Economic Opportunity Council to be awarded to two nursing students.
2018: Fall Semester Recipient: Cassandra Smith-Raymond
2019: Spring Semester: To Be Announced
2018: ENDOWED SCHOLARSHIP Recipient of the $500 AAUW LPN Endowment Scholarship: Kristen Hazel, pursuing a degree in Nursing.
2018-2019: AAUW Vero Beach Branch $1200 Scholarship Recipients,
selected by the IRSC Foundation, are:
Brittany Bailey – GPA 3.48 She hopes to obtain a bachelor's degree in molecular biology and further her education in genetics.
Maricris Clark – GPA 3.52 She is pursuing a bachelor's degree in IT Management and cyber security.
Shelby Kinsey – GPA 3.41 She is pursuing a bachelor's degree in accounting with plans to become a financial accountant.
Madison Torrent – GPA of 3.95 She received highest honors when she finished her AA degree.  She will be transferring to the University of Florida, majoring in graphic design and minoring in business.
---
 2016-17: Scholarships of $ 1200 each were awarded to the following students:
Nesly Cendejas, seeking a BS in Computer Science and a career in IT Cyber security
Taylor Vignone, seeking a BS in Biology and a career as a Physicians Assistant
Rachael Tiamiyu, seeking a BS in Biology/Biotechnology and plans to apply to medical school upon graduation
Kimberly Thiemann, seeking a BS in Nursing and a career in pediatric oncology
Stacey Bush, who is seeking a BAS in Organizational Management, received our $500 Branch Endowed scholarship
---
2014-15: Five scholarships of $ 1,000 each were awarded to:
Mary Cavanaugh, Rochelle Santoy, Joanne Sawicki, Tiffany Smiley, and Joanne Zjezdzalka