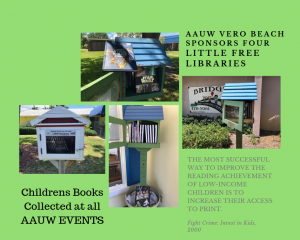 The most successful way to improve the reading achievement of low-income children is to increase their access to print. 
Newman, Sanford, et all. "American's Child Care Crisis: A Crime Prevention Tragedy"; Fight Crime: Invest in Kids, 2000
.
In middle-income neighborhoods, the ratio of books per child is 13 to 1; in low-income neighborhoods, the ratio is 1 age-appropriate book for every 300 children. 
Neuman, Susan B. and David K. Dickinson, ed. Handbook of Early Literacy Research, Volume 2. New York, NY: 2006, p. 31
Because we love learning and support women and families, this
project to provide free access to books for working families fits our
goals and makes an immediate difference.
---
Christine Ryall, Ph.D.
"ATTITUDES SHAPE FUTURES"
Big Brothers Big Sisters
Mentor Trainer  Christine.ryall@bbbsbigs.org
772-766-1422
         Or 
Drcryall@gmail.com